Advertising with Helium and Balloons
U.S. Alloys also has a helium and balloon division. Whether it's a sale, grand opening or other special event, we have what you need to let your customers know you are there!
Helium
Regulators
Fillers
Cones of string
17" Standard colored balloons
17" Tropical colored balloons
17" Jewell tone colored balloons
30" "cloud buster" balloons and pennants in standard colors and Red, White and Blue
Special holiday colors for Halloween, Christmas and the 4th of July
Custom ordered balloons tailored to your specific business needs
No more paying outrageous prices for party balloons!
We have everything you need to decorate your party, wedding or other special occasion with balloons. Whether you need 25 balloons or 250 or more, we have the right size tank for your needs.

12" balloons in the following colors:

Standard primary
Pastel
Silk

Jewel Tone
Satin
Happy Birthday balloons
Easy to tie discs (no more wearing your fingers out tying knots in your balloons).
Curling Ribbon in every imaginable color.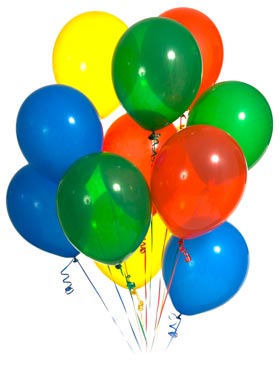 WE SPECIALIZE IN AUTO DEALERS!
For the last 30 years we have supplied the By Area's car dealers with balloons, "cloud busters" and pennants. Everything you need to make a festive and eye-catching display of your show room as well as your car lot.